Head Teacher Welcome 
Our school has a strong Catholic ethos and we all try our best to learn and work together through Christ. Our partnership with the Parish and our Federated sister school St Edmund's is very strong. We have one board of Governors overseeing the provision of both schools.
This enables us to work with a larger team and share good practise from both schools, we can offer more support for year group teams working together and new staff can share and learn from the expertise of more experienced staff. 
Everyone at St Patrick's is dedicated to providing the best possible education and care to every single young person we serve.  As Catholic schools with Christ at our centre we are able to move forward in our mission to inspire all our learners to grow and achieve. We include all members of our community as life long learners in this aim providing the best for our pupils by developing strong CPD provisions for our staff.
We work in collaboration with our Parish priests to provide a strong family and parish orientated sacramental programme for the children preparing for First Holy Communion, Reconciliation and Confirmation.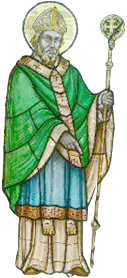 In the community of St Patrick's we continually strive to develop a dynamic and nurturing environment.  This involves improvements to our buildings and grounds as well as an evolving and creative approach to the curriculum.  We encourage new ideas and expertise to be shared in our team and positively encourage a 'have a go' culture.  We want to offer the best for our pupils to give them every opportunity to leave us as confident and optimistic young people.  This includes a wide and varied programme of extra curricular activities as well as visits to other educational settings, being close to the city centre means we can be creative about transport.
We aim to give all our children an exciting and challenging faith based curriculum so that they discover their God given skills and talents during their time at St Patrick's.  We are proud of the good relationships we have with our parents and carers.  Our school has a strong 'family feel' and this is reflected in the good relationships that exist between governors, parents, staff and pupils.
Our website gives you an enjoyable insight into our happy and caring school and we hope you will enjoy looking around. 
I am grateful to our School Governors who are responsible for monitoring our work and helping us to ensure we provide high quality education and care for all our pupils.
Without a doubt, our best asset at St Patrick's are the wonderful children we have the pleasure and honour of working with every day.  You can see their fantastic achievements on the pages of this website.
Please enjoy your visit to our website, and I hope it gives you an insight into the positive culture of our school.
Mary O'Friel 
Executive Headteacher 
St Patrick's Catholic Primary School